Setting up a D2L LTI tool is a two step process. The first step is to set up the global tool provider and the second step is to set up each of the links given to you so they can easily be used in courses.
Adding NimblyWise as an LTI tool provider.
Note: This can be done at a global LMS admin level or at a course level.
Step 1: As an admin, click on the Admin gear icon in the top right of the page, then select External Learning Tools under Organization Related section. If you are adding this at a course level, click on Edit Course, and then External Learning Tools.
Step 2: Click on Manage Tool Providers then select New Tool Provider.
When you create the tool provider, you will need to input the following fields:


Launch Point: lms.nimblywise.com
Version: Inherit Global
Secret: This is the Shared Secret given to you.
Tool consumer information: Check the box to use custom tool info
Key: This is the Consumer key given to you.
Name: NimblyWise
Visibility: Allow users to use this tool provider
Below that are security settings to set as follows:
Visibility settings: Checked
Security settings: The minimum security settings requirements are Tool Consumer Information, context information, and LTI user ID and LTI role list.
Make tool provider available: You can adjust this setting to the D2L roles and org levels that you wish.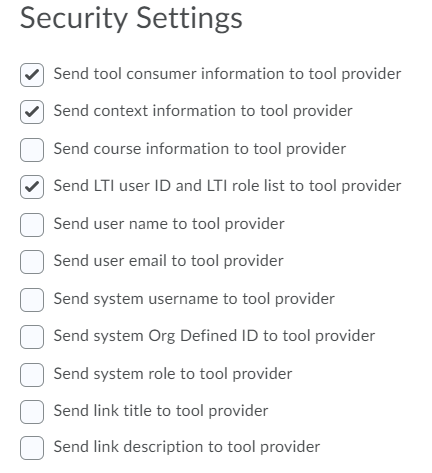 ---
— Back to D2L LTI Set Up