This page will show you how to add an LTI link to a course within Sakai. This is aimed at instructors, assuming that your Sakai admin has already set up your global tool. If not, please contact your Sakai admin to set it up.
Step 1: In your Sakai course, click on Site Info in the left navigation bar. Then click on External Tools –> Tool Links –> Create Tool Link.

Step 2: Select the NimblyWise tool that your Sakai admin set up. If you do not see a tool in the dropdown, please contact your Sakai admin.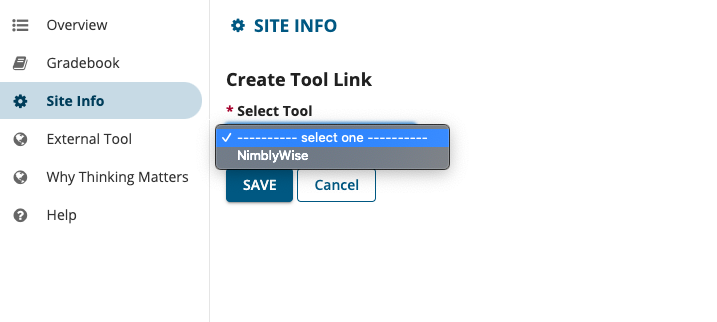 Step 3: Fill in the following information:
Tool Title
Button Text
Launch URL (the LTI URL that NimblyWise gives you)
If you'd like a link on the course left navigation bar, check Add Site Link.
Then click save.