Every organization faces different challenges daily. From cash flow issues to hiring challenges, lead generation problems to faulty product launches, each unique business will inevitably face hardships. That's where design thinking and creativity separate those who will fail and who will succeed. It's a process that forces you to put your customer first, examine their challenges and needs, and rise above your competition with swift reactions. You place all your effort and focus into solving problems that will provide value for your customer and, ultimately, your team.
Today, we're going to share what exactly that means and how you can implement it for your company!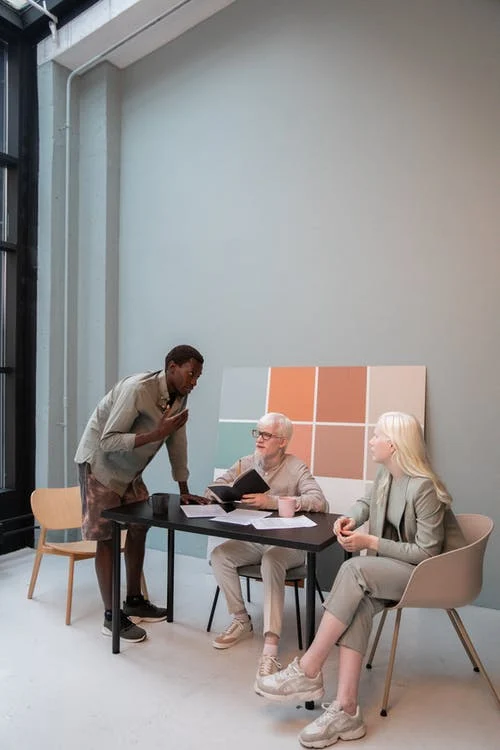 Design thinking has nothing to do with actual artistic design. At its core, design thinking is strategic creativity. This is the ultimate tool for businesses to innovate products, services, and rise above the competition. It's a problem-solving method that is literally made for innovation.
Design thinking can be broken down into five steps according to the Hasso Plattner Institute of Design at Stanford University:
Empathize:

Understanding the problem you're trying to solve for your consumers.

Define:

Using the research done in the empathize phase, create problem statements that define the issues you're looking to solve.

Ideate:

Brainstorm ways that you can solve these complex problems for your consumers.

Prototype:

Take the best solutions from the ideation phase and create physical prototypes or processes that you can implement to solve the targeted problems.

Test:

See what works and sticks, solving the problem most effectively and efficiently!
So, what does that sound like to you? It's facilitated creativity that's done in a way that is a bit more structured but just as inspiring. This process has been pioneered by global corporations like Apple, Samsung, IBM, and Google to create some of the world's most life-changing technologies.
What is the Link Between Design Thinking & Creativity?
Creativity is innately woven into the design thinking process. Synthesizing ideas and research to lead to solutions is the foundation of creativity. We've shared this quote before, but it's so profound in simplifying what many people make so complex. Steve Jobs once said, "Creativity is just connecting things. When you ask creative people how they did something, they feel a little guilty because they didn't really do it, they just saw something. It seemed obvious to them after a while."
Design thinking forces you to connect the dots between problems and solutions. This innately sparks creativity and is so simple to start implementing for business success. Here's how you can start:
Start asking for more feedback at every stage of your customer journey.
In doing this, you start a feedback loop that you can quickly deploy. Devise a team to solve any challenges that are brought to your attention during this phase and have them work through the following steps.
Define the issues that emerge from this feedback.
After a defined number of customer feedback results, it's time to dive in. What are the recurring issues that may be impacting your business negatively? Determine which you'd like to solve in order of importance and either work on them concurrently or deploy multiple teams to work on problems that are in their area of expertise or service.
Brainstorm solutions that can be swiftly implemented.
Here's where creativity comes in! Have those teams work together in facilitated brainstorming sessions to come up with products, services, or processes that may help solve the issues you're targeting.
Test your solutions and measure against KPIs.
Come up with a list of KPIs that would designate success like cost, engagement, ease of use, etc. Then, test internally and/or with focus groups.
Finally, decide which stack up and provide the most ROI and make them a permanent solution.
It will take time to perfect this and be organized enough to guide this process step-by-step. But the results will take you to the next level!
Allow the NimblyWise Coaching Team to Help You Create a Culture of Design Thinking in Your Organization
Sometimes when introducing new innovative processes or teaching new theories, it's good to have a third party help with the implementation. They bring a neutral point of view and can help prompt questions and situations that lend themselves perfectly to design thinking. Our NimblyWise team can help you start creating a culture of design thinking by doing just that. Let's chat!