You will spend one-third of your life at work. Let's think about that for a second. One-third of your life, 90,000 hours on average, will be dedicated to your career. Do you want to spend that precious time doing something that doesn't feel aligned for you? Whether you've just graduated from college or are approaching a decade or more navigating the world of work, it's never too early or too late to uncover what truly drives you. For many, unless your company has a great learning and development program, it can be challenging to have time and energy to focus on self-reflection as well as  clear and meaningful career goals. But, it doesn't have to be that way. You can continue working toward being the best employee possible and delving deeper into your passions, skills, and goals by hiring a career coach.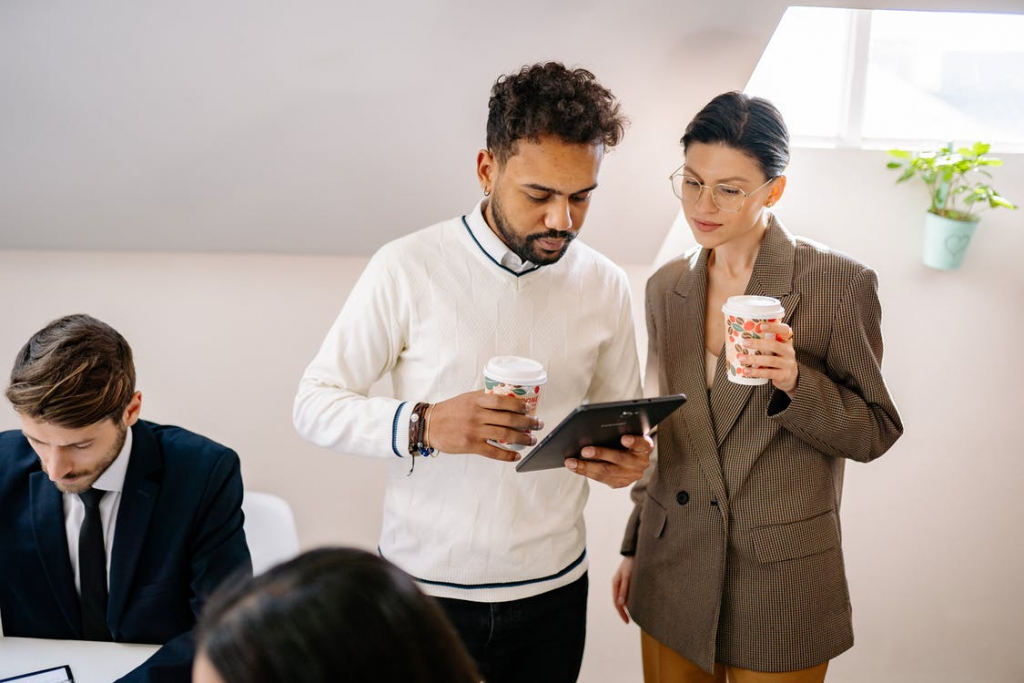 Today, we're going to uncover what a career coach can do for you and help you determine whether or not a career coach could be beneficial for you! Ready to spend a few moments investing in yourself?
What is a Career Coach?
The first question you may be asking is, "Well, what even is a career coach?"
Career coaches are professionals who guide professionals through career development activities. This could be as simple as working on your interpersonal communication skills to get that manager promotion. Or it could be about designing a new trajectory for your career in a new industry and identifying what steps and skills you need to accomplish that transition.
Their goal is to help you achieve your career goals—or even set them if you don't know what that looks like. The best part about career coaching is that it's completely customized to you, where you're at, and what you need from the relationship! 
Questions to Ask to Determine if You're Ready for Career Coaching
If you're unsure about whether or not you need career coaching or if you're ready for it, ask yourself the following questions:
Do I have a clear vision for my career moving forward? Does that feel aligned?
Do I take the time to self-reflect and invest in skill-building on my own?
Does my manager provide adequate coaching to make me feel supported in my professional growth?
Am I accountable to myself when it comes to achieving my goals? Do I even have goals written down?
For many individuals, if the answer is no to any of these questions, career coaching could provide immense growth for you personally and professionally.
5 Potential Benefits of Hiring a Career Coach
Here are a few potential benefits of hiring a career coach that our NimblyWise participants have shared after their interactions with coaches.
Clarity
Spoiler alert: You're not the only one who doesn't know what they want to do with their life. Our worlds are ever-changing, constantly evolving, and it's hard to find clarity on precisely what you want in that spirit. If you've found yourself trying a new industry every time you switch roles, just to see the grass isn't greener, you may need greater clarity on your skills, your passions, and how that can become a career. Using curated self-assessments and tests, your career coach can help you identify which career paths may align well with your skills and desires. Then, they can help you design clear steps toward making that shift seamlessly.
Accountability
We often start working toward our goals just to realize they're hard, and we give up. It's human nature! You meet with your coach at a frequency that works to keep you laser-focused on what you're trying to achieve, despite the stresses and interruptions from daily life.
Marketability
When you've been trying to land a new role for months without success, it could be time to look at how you're marketing yourself. What's on your resume? How are you answering interview questions? Your career coach can help you identify how you can better develop your personal brand and market yourself to achieve your career goals.
Skill-Building
If you're constantly struggling with one facet of your role, it could be due to an inherent skills gap. Unfortunately, in many cases, education focuses on teaching hard skills, not necessarily the soft skills, like creativity, problem-solving, or interpersonal communication that come up in the workplace. Your career coach can help you identify what your skills gaps are and help you develop them in real-time with unwavering support.
Confidence
When you achieve clarity with all the proper tools in your toolbelt to reach your goals, that comes with confidence that can't be broken.
There's a common misconception that career coaching is solely for executives looking to perform at their peak. However, this couldn't be farther from the truth. Hiring a career coach can benefit you at any level in your career in these ways and more. It could set you apart and allow you to perform at your peak, helping you achieve those career goals quickly and with greater ease.
Are You Ready to Invest in Your Future?
If you're feeling lost in your career and unsure of what the next steps are to get to a place of comfort and prosperity, and loving what you do, career coaching could be an invaluable option for you. NimblyWise coaches are ready to help! Want to learn more about how you can invest in your future and gain clarity and confidence? Let's chat.