Your grades and progress in the course are shown on the My Skills tab. You can see an overview or dive deeper into skills and your scores.
To see your grades:
Click on My Skills. At the top of the page, it will show your top strengths (your highest scores) and your top opportunities (your lowest scores). If you scroll down, it will show your scores on each quiz or assessment. Click on Print My Skills Report to print or save the entire page.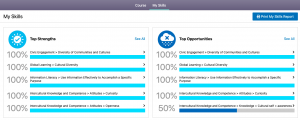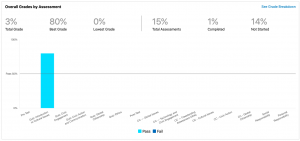 Performance by Skills:
If you click on See All for either Top Skills or Top Opportunities, it will bring up a page of all your scores. The scores are broken down by learning outcome (or "skill") and shows your average performance on each skill. If you click on each skill, it will expand and show which quizzes use that skill and your score. It will show what the question text, the correct answer, and your average performance.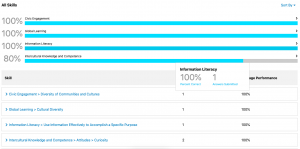 Performance by Quiz:
To see your performance by quiz (instead of skills), Scroll down to My Skills – Grades and click on See All. That will bring up a page showing average performance by quiz. Below that you can expand each quiz and see your answers on each question within that quiz.