Dropdowns or cloze questions ask students to fill in missing words in a sentence.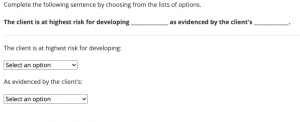 ---
Edit the question prompt or sentence: 
The initial sentence prompt is between <p> tags before any of the dropdowns. To create the sentence blanks, use underscores to create a line.
<p>

Complete the following sentence by choosing from the lists of options.

</p><p>

<strong>The client is at highest risk for developing 

_______________

 as evidenced by the client's 

______________

.</strong>

</p>


---
Add or delete new dropdowns:
EdX uses the <optionresponse> tag to note a dropdown, the <label> tag to mark the question text, and <optioninput> and <option> for the dropdown answer choices. If you need to add an additional dropdown, copy and paste everything from <optionresponse> to </optionresponse>
<optionresponse>
<label>

<strong>the fetal heart rate should</strong>

</label>
<optioninput>
<option

 correct="True">increase</option>




<option correct="False">decrease</option>


</optioninput>


</optionresponse>




---
Edit the dropdown options:
To add, remove, or edit dropdown options, edit the options within the <optioninput> tag. Each <option> tag also includes a correctness modifier of true or false. If you edit an option, be sure to also change the answer correctness.
<optioninput>


<option

 correct=

"True"

>increase

</option>




<option

 correct=

"

False"

>decrease

</option>


</optioninput>